Home > Guides > Guide Award Scheme
Guide Award Scheme
Science and Technology Challenge
There are many different badges that participation in JOTA / JOTI can contribute to, but the Explore a Challenge: Science and Technology is perhaps the most relevant. Choose four challenges from these suggestions that can be easily done during JOTA and JOTI.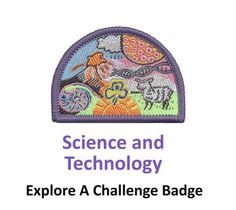 Increase your computer skills:
Check out communication methods and use one to get in touch with a friend:
Create something powered by air, electricity or water:
Promote Guiding using technical equipment:
Discover how nature works by investigating a natural land form:
Create your own challenge to widen your understanding of science and technology.
Amateur Radio Foundation License
In 2005, the Australian Communications and Media Authority, ACMA, introduced an Amateur Radio Foundation license, targetted at a younger and less technical audience. The Foundation License is going to be the perfect license for Guides to get started in Amateur Radio.
100 Years of Guiding
Girl Guides Australia celebrated 100 years of Guiding across Australia from September 2009 to February 2011.
Friendship Project
As part of the 2007 Friendship Project each troop and unit was given a little "friend". They had to write on them what they thought friends and friendship meant.