Home > History > 20th Anniversary of JOTA at Narrabeen
20th Anniversary of JOTA at Narrabeen
2006 marked the 20th anniversary of combined Scout and Guide JOTA camps at Sydney Lakeside Caravan Park at Narrabeen. The camp was started as a way to provide an activity where local Scouts and Guides could participate together in an international event. The fact that the camp is still running after 20 years and attracts around 200 youth members each year is due to the popularity of the event, the location, and the leaders and parents who put in so much effort each year.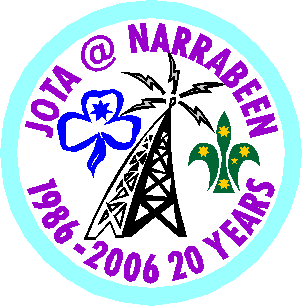 The flag pole near the dining hut was donated by the Scouts and Guides in 1996 to mark the tenth anniversary. A badge was also given to participants.
In 2006 all participants were presented with a commemorative cloth badge.
We've come a long way since those days, with more modern and powerful radios and in the last few years, computers and the Internet.
In 2005 we trialled a new technology - Echolink. Echolink uses the Internet to carry voice transmissions as Voice over IP (VoIP) to another Echolink station. This allows low power UHF radios to make world wide contacts, even when weather conditions are not favourable for long distance reception.
We are indebted to the members of the Manly Warringah Radio Society who freely give their time and equipment. Without them the camp would not be possible.
The Jamboree on the Internet, JOTI, started in 1996 and our first computers were added in 1998. These were six 286 class PCs.
Today we have a network of nearly 20 computers using a wireless broadband Internet connection. A firewall protects us from the nasty elements of the Internet while still allowing access to the Scoutlink chat servers and web sites all over the world.
There has always been some other activities as well. To keep in touch with the technology side of things all youth members get to make an electronic kit. Over the years a variety of interesting, useful, and sometimes annoyingly noisy kits have been constructed.
Being right on the shore of Narrabeen Lakes has provided plenty of scope for water activities. These have ranged from building rafts with poles and inner tubes to canoing, sailing and expeditions around the lakes.
Other land based games have been radio fox hunts, wide games, bush walking, kite making, flying fox, slippery poles, horizontal bungy, and Putt Putt golf at the nearby venue.